16. November 2023
How can standards support the future European wind energy sector?
Discover the challenges and sustainability developments in the wind power sector and how the European Commission's Wind Power Action Plan and standardization efforts can drive renewable energy deployment in Europe.
Explore the insights from our recent webinar held on November 13th: "How can standards support the future European energy sector?" hosted by Danish Standard in close collaboration with the wind power working group including European stakeholders in wind power and standardization. The working group came together to provide input to the European Commission's High-Level Forum on European Standardisation (HLF).
In this webinar, we delved into the primary challenges and sustainability developments within the wind power sector. It was discussed how standards can contribute to a more cohesive internal market and how standards should evolve to support the developments in the industry.
Contact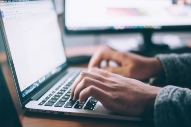 Solvej Dam Karlslund
Konsulent | Consultant
Afdeling for international politik og kursus
E: sk@ds.dk
T: 39 96 61 73